NPORS or the National Plant Operators Registration Scheme is an awarding body and a rapidly up and coming card scheme. Since NPORS was founded in 1992, it has continued to be a credible training alternative in the construction industry.
Is NPORS a recognised card?
NPORS is a credible and recognised card scheme that "challenges the status quo". NPORS is recognised on many sites with many of the major contractors due to the new addition to their card scheme, the CSCS logo NPORS card. On top of this, in 2014, NPORS became a UKCG accepted record scheme, meaning it is recognised as being equivalent to CPCS. This has brought it more in line with the major card scheme, CPCS.
Does NPORS work like CPCS?
Similar to CPCS, you will undertake a theory and practical test on the machine of your choice. Once you have successfully passed both of these tests you can receive a "Trained Operator" card similar to the red CPCS card. This will be valid for 2 years and can be upgraded via the NVQ, to the blue NPORS Competent Operator card, and will be valid for a further 5 years. As with CPCS, NPORS will upgrade your card upon the completion of a Level 2 NVQ in Plant Operations. This consists of an on-site assessment to see if you are competent on the machinery.
What are the benefits of choosing NPORS?
There are many benefits to choosing NPORS for your awarding body. The fact that we are able to deliver your training and testing at your site means that we are very flexible in availability. This can be beneficial for you or your employees as you will be trained in the area that you work in on a day-to-day basis, meaning it will be easier to apply your knowledge when you are working.
Furthermore, it is easier to access your own workplace than our site in Burscough generally, especially if you work far away or don't have easy access to transportation. With NPORS, we are not restricted to an accredited training centre, unlike CPCS where we have to train you at our site unless it is an off-centre category.
With NPORS, you will generally benefit from a lower cost of training and testing, however, this doesn't mean that the quality of the training decreases. Many of the NPORS trainers that we use here at SB Skills Solutions are also accredited to many other awarding bodies which should indicate that the level of service you receive will be to the highest standards possible. Additionally, costs can be reduced further as machinery won't need to be hired in if you require training and testing on a more specialised machine.
NPORS recently increased the security of the cards by introducing a new 'Smart Card' which adds a QR code. When scanned, the operator profile will be brought up. This feature could be used to authenticate a persons NPORS card on-site.
Here at SB Skills Solutions, we have a wide range of NPORS trainers across the whole of the UK which allows us to react quickly to your needs in the most cost-effective way possible. All of our trainers have proven themselves with many of the biggest UK contractors, so we know that the service they provide is the best it can be. Take a look at the available dates for NPORS courses on our training calendar.
What categories can I get?
There are a wide variety of categories, which means that we can provide training for almost every area of your business. The categories on offer range from chainsaws, manual handling and abrasive wheels all the way through to tower cranes, material rehandlers and crushers! You will almost always find the category for you with NPORS.
Is NPORS just for the construction industry?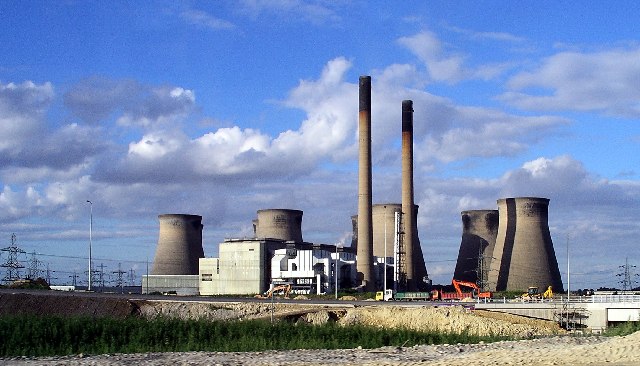 Not at all! NPORS is used across many different industry sectors as a one-stop-shop for training needs. The industries that they operate in include but are not limited to:
Industrial
Construction
Utilities
Marine
Agriculture
Demolition
Lifting Operations
Oil & Gas
Engineering
Aviation
Local Authority
Food
Prisons
Petrochemical
Military
Energy and Nuclear
And many more.
The NPORS Card Scheme Explained
NPORS Traditional Card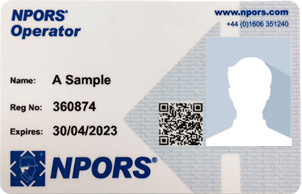 The traditional card is the original card that you would receive. As you can see, this card doesn't have the CSCS logo on, which the other cards do. This card should definitely be used if you do not require a CSCS approved plant qualification. This card is similar to the other NPORS cards to achieve, however, it is easier to renew. With this card, you won't need to complete your CITB Health, Safety and Awareness test for Operatives, prior to your test. This can be helpful to a lot of operators as it means less time out of work. In order to renew this card, you can simply fill out a form after the 5-year expiry date, unlike with other card schemes that require renewal tests or re-tests.
NPORS Trained Operator Card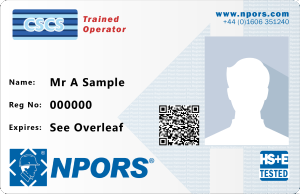 This card carries the CSCS logo which will show the site that the qualification that you have achieved is recognised by CSCS. This card is similar to the CPCS red card as you must complete your Health, Safety and Environment test for Operatives before carrying out your theory and practical test. The theory test consists of 25 questions, 20 of which are multiple-choice questions, the number of theory questions will not change, unlike CPCS which can vary greatly. Once you have completed your theory test you will be moved onto the practical test which consists of an assessment on the machine, carrying out the tasks required. These often include manoeuvering through chicanes, travelling up inclines and other essential operations that you will have to carry out.
NPORS CSCS Competent Operator Card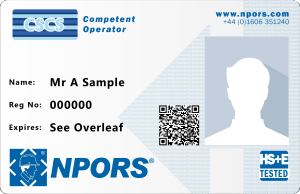 This card also carries the CSCS logo. This card is achieved by undergoing an NVQ in the required area. For example, to upgrade to the blue NPORS card from the Trained Operator card you will need an NVQ Level 2 in Plant Operations, as with many of the categories. You simply need to complete the NVQ that you need for your category, have an in date Health, Safety and Environment test for Operatives, and we will do the rest.
How can I get started?
SB Skills Solutions have a range of NPORS courses available on a nationwide basis. Give us a call on 01695 558 420 to discuss how we can help you to get your own NPORS card!