There are 12 different CSCS card types which are essential proof of competence for occupations within the construction industry.
They support safe working practices, and help employers in the industry comply with health and safety regulations.
The construction industry is highly diverse, and includes a broad range of activities.
According to Government figures, it contributes nearly £90 billion to the UK economy.
Employing some three million people, the industry accounts for around 10 per cent of jobs in the UK. Performance is, therefore, a critical factor.
A vital aspect of this performance comes down to the individuals working in construction, and making sure they have the skills that the industry needs to thrive in a challenging, modern economy.
With its card scheme, CSCS supports the ongoing development of the construction workforce.
What is CSCS?
CSCS stands for the Construction Skills Certification Scheme. Whether you are a construction worker or require access to a construction site, a CSCS card reflects your skill level and occupation.
The scheme issues CSCS cards, which provide proof an individual holder has the appropriate training and qualifications for the job they do on site.
Possessing a CSCS card is not a legal requirement, but most principal contractors and employers require that anyone working on a site holds a valid and relevant card for their role.
The aim of CSCS cards is to improve standards and safety on construction sites across the UK.
CSCS was established in 1995, with the main aim of ensuring people could provide proof of their training and qualifications when working on construction sites.
It is owned by the construction industry, and works on its behalf.
CSCS is a not-for-profit organisation.
That means it does not exist to make a profit for its owners, but rather to use its resources to pursue its aims and objectives for improving how the construction industry works.
It has no shareholders.
Four employer organisations, and three unions, own CSCS.
Why are Construction Site Skills Important?
Workplace health and safety is critically important in the construction industry.
Construction sites and the equipment used on them pose many potential risks, including the threat of severe injury and loss of life.
HSE reported that the rate of construction worker injuries rose for the first time in five years in 2018-2019.
There were 366 non-fatal injuries per 100,000 employees
Fines in the construction sector were £15.7 million
30 construction workers died in 2018-2019
Construction site skills and a clear awareness of safe working practices are vital in helping to keep sites safe.
What Are CSCS Cards?
The Construction Skills Certification Scheme (CSCS) helps ensure that sites are safe throughout the UK.
It issues a range of official cards for construction site workers.
Card holders are able to demonstrate that they have met the criteria appropriate to their job role for working on a construction site.
This gives primary contractors and other employers peace of mind, knowing that they are only allowing people on site who are properly qualified to be there.
CSCS Card Types
An individual can apply for the CSCS card that matches their skills and qualifications to carry out their job on a construction site.
The card acts as proof of identity and proof of competence.
It can also show any relevant certification the individual has gained in relation to their site skills.
Overall, there are 12 different CSCS card types. There are basic health and safety qualifications you will need to apply for one, which we will come to later.
In addition, certain cards also require other qualifications or proof of experience.
Labourer card – Green CSCS Card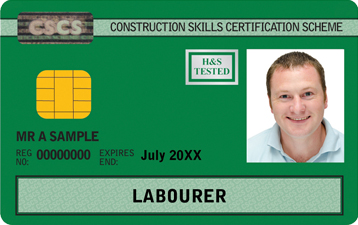 Green CSCS Labourer Card is for entry-level workers who work on a construction site. You can apply for this card if you have completed RQF Level 1/SCQF Level 4 Award in Health and Safety in a construction environment or SCQF Level 5 REHIS Elementary Health and Safety Certificate. The applicants must also pass the CITB Health, Safety and Environment test. The labourer card is valid for five years and you can renew it.
Apprentice card – Red CSCS Card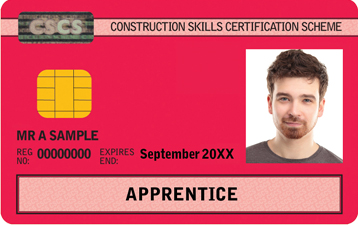 The red apprentice CSCS card applies if you have registered on an official apprenticeship. You will need to provide evidence that you are registered on a valid apprenticeship scheme. This red CSCS card is valid for 4.6 years, and is not renewable.
Experienced Technical, Supervisor or Manager card – Red CSCS Card
Apply for this red card if you have on-the-job experience as a manager or supervisor but are not a member of a professional body. It is a temporary card, while you take a relevant NVQ. It is valid for three years and is not renewable.
Experienced worker card – Red CSCS Card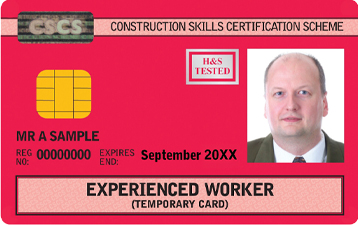 The Red CSCS Experienced Worker Card is a temporary card designed for those who have at least one year's work experience in a construction-related occupation and are currently undertaking a CSCS recognised NVQ/SVQ qualification. It is non-renewable and expires after one year.
Trainee card – Red CSCS Card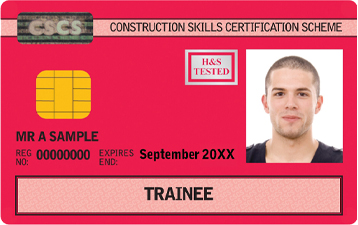 The red trainee CSCS card applies to individulas who are just starting out in the construction industry as a trainee, have enrolled for a relevant training course and passed the essential health and safety knowledge test. This card lasts for five years and you cannot renew it.
Skilled worker card – Blue CSCS Card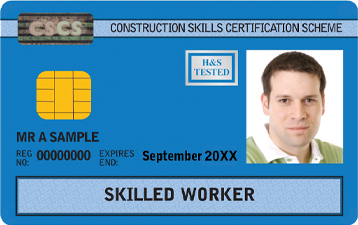 The blue CSCS skilled worker card applies if you have an NVQ/SVQ level 2in a construction-related subject or have completed an apprenticeship programme that is approved by CSCS. The blue card lasts for five years, after which you can renew it.
Advanced craft card – Gold CSCS Card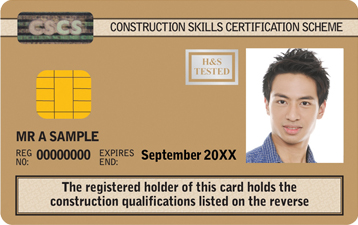 The Gold CSCS Advanced Craft card is for those who have achieved a level 3 NVQ/SVQ and are highly skilled within their field in the construction industry, or completed a CSCS approved indentured apprenticeship (e.g. with NJCBI, BATJIC, etc.) or has completed an employer-sponsored apprenticeship which included the achievement of a City and Guilds of London Institute Advanced Craft Certificate. This card is renewable after five years.
Supervisory card – Gold CSCS Card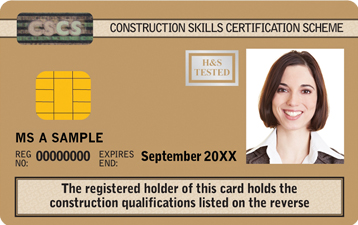 The Gold CSCS Supervisory Card is available for supervisor and technical occupations subject to the achievement of a Construction Related Supervisory/Technical NVQ or SVQ level 3 or 4. This gold CSCS card is valid for five years and can be renewed.
Manager card – Black CSCS Card
The black CSCS manager card is one of the highest level cards available for people in management roles and technical occupations in the construction industry. The construction site manager must have NVQ/SVQ level 4, 5, 6, or 7 within a Construction Management/Technical related qualifications. The Black CSCS card lasts for five years, after which it is renewable.
Academically qualified person card – AQP CSCS Card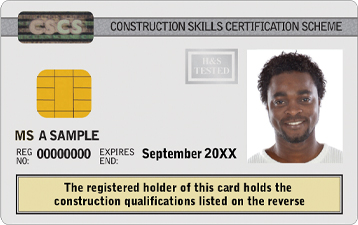 This white card is for people who have completed certain construction-related degrees, HNDs, HNCs, CIOB Certificates and NEBOSH diplomas. To apply, they must provide proof of their qualification, evidence of units achieved, where possible. It is renewable after five years. CSCS has a list of all acceptable qualifications for the AQP Card on their website.
Professionally qualified person Card – PQP CSCS Card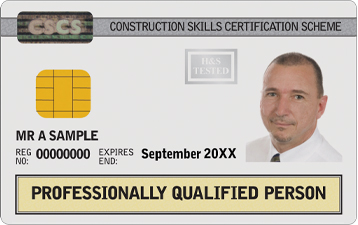 The white professionally qualified person (PQP) card applies if you are a member of a CSCS-approved professional body and for those whose profession requires them to visit a construction site. You must provide evidence that they are aware of health and safety standards on a construction site. You can renew the PQP CSCS card after five years.
Provisional card – Red CSCS Card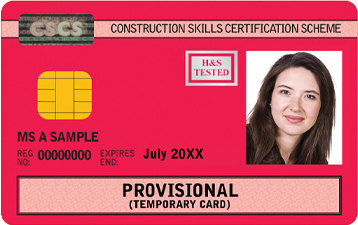 This red CSCS card is a temporary card only. You can only apply for one if you have never held a CSCS card before. It applies if you are working through a probationary period or undertaking on-site work experience but does require you to have signed up for a construction-related qualification before it expires. The provisional card expires after six months and is non-renewable.
How to Apply for a CSCS Card
You cannot get any type of CSCS card without first passing a relevant Health, Safety & Environment Test. This is an essential preliminary step to applying for a CSCS card.
There are various versions of the HS&E test, and your level of work will determine the level of test you should take.
For example, managers must have passed the Construction Industry Training Board(CITB) Managers and Professionals HS&E Test.
Labourers must first pass the standard CITB HS&E Test.
To then apply for the CSCS card that matches your job role, you must also meet the necessary criteria.
In many cases, to apply for the CSCS card that matches your job role, you must also have the relevant level of industry qualifications, such as an NVQ or SVQ.
There are certain exemptions that can apply where, for example, a site worker has plenty of on-the-job experience but has not had the opportunity to obtain relevant industry qualifications.
They may be able to obtain a red Experienced Worker card, if they can show they have enrolled on an NVQ to obtain the necessary qualifications.
You can apply for a CSCS card online and there is an online card finder to help you find the right CSCS card for your occupation.
What is the Difference Between CSCS and CPCS Cards?
CSCS cards cover workers in the construction industry, but they do not cover specific plant sector workers.
Where workers require certification to operate specific, specialised construction equipment and machinery, they must apply for a CPCS card.
CPCS is the Construction Plant Competence Scheme and it issues two kinds of card: the Red Trained Operator Card and the Blue Competent Operator Card.
Whether you are at entry-level or an experienced professional it can seem confusing as to which CSCS card you should apply for, but our helpful team at SB Skills Solutions will point you in the right direction and answer any questions you may have about qualification requirements, validity and the purpose of each card. For more information, please call SB Skills Solutions at 01695 558420 or complete our online contact form, and we'll be back in touch as soon as possible.