The Skilled Worker Blue CSCS Card, is a Level 2 CSCS card that can be achieved through a trade-specific NVQ alongside the relevant Health, Safety and Environment test for Operatives.
The Blue Skilled Worker CSCS card proves your competency in a given trade within the construction industry.
You may be familiar with the Blue CSCS Card, but you may be wondering about the best route to achieve your card.
Do you need a Blue CSCS Card?
As you may have seen from our "CSCS Card Types" article or the "How to Get a Green CSCS Card" article, you don't need to have a CSCS card to work on-site at all. This is because CSCS is not a legal requirement. However, CSCS cards are mandatory on most construction sites. This is because holding a CSCS card is a way for employers to ensure that construction workers are competent in health and safety.
Health and Safety being so key in construction, is a major selling point for an employer who is hiring a new employee. With CSCS accreditation, the employer can be sure that you are able to conduct yourself properly on a construction site with many dangers.
Why get a Blue CSCS Card over a Green Card?
You may be wondering why you need a Blue Skilled Worker card rather than a Green CSCS Card. The Blue CSCS card certifies that you are competent and able to work safely like the green card. However, it also certifies that you are competent in the trade that you work in
What trades can you get a card for?
There are many trades that you may find you need this card for. If you are operating in a role that is trade-specific, the chances are that you will need a card. Below you will a few of the roles that you can get a card for:
You can find a full list of trades on the CSCS website when applying for your card. The chances are, if you have a specific job role on site, there is an NVQ and CSCS Blue Skilled Worker Card to match it.
What qualifications do you need?
To get any card within the CSCS card scheme, you will need to meet some requirements which vary between cards. The Skilled Worker Card is attained with a trade-specific Level 2 NVQ and a Health, Safety and Environment test for operatives. By sending these qualifications off to CSCS, you will be eligible to receive your Blue Skilled Worker card. If you don't have a Level 2 NVQ, you can use your Level 2 Apprenticeship to apply if it is eligible with CSCS.
So which Level 2 NVQs are eligible?
The list isn't shown on the CSCS website as there are hundreds of different qualifications that you can use.
The NVQs that SB Skills can offer to allow you to get your Blue Skilled Worker CSCS Card are:
And many more.
The best part about achieving your NVQ is that it never expires. This means that you won't need to renew your NVQ with a refresher course at any point.
How much does this all cost?
There is no industry standard of pricing as it all depends on the NVQ you undertake and the company you choose. To find out about the price of NVQs with SB Skills, give us a call on 01695 558 420.
The Health, Safety and Environment test for operatives will cost you £21 through Pearson Vue and the card application is £36.
How do you renew the Blue CSCS Card?
Renewing is fairly straight forward. As we mentioned before, NVQs are for life and never expire, this makes renewing very simple.
To renew your Blue CSCS card, all you will need is the Health, Safety and Environment test for Operatives and a copy of your NVQ.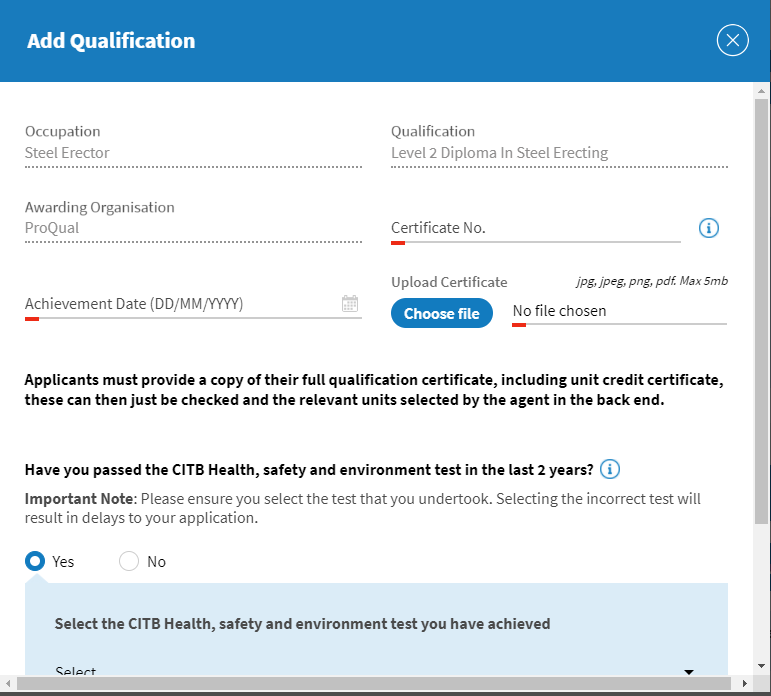 You'll need to then fill out your certificate details and upload a picture or a scan. Then upon paying the £36 card fee, you will be able to track the progress of your application up to being posted out to your address.
Benefits of the Blue CSCS Card
The Blue Skilled Worker CSCS Card is a great step in your construction career as it allows you to carry out skilled labour such as bricklaying, steel erecting, carpentry and many more roles. This can help you to progress through your career into a supervisory role if that is your career choice or become a specialist in your field with a Gold Advanced Craft CSCS Card.
The Pay
Having a Blue CSCS Card can increase your salary potential greatly. Having a Green CSCS Card can allow you onto the site but the difference in having a Blue Card is the responsibility. Taking on greater responsibilities that require skill to provide quality to customers will always be a way to increase your salary. This is because you will be a more qualified member of staff, do you think that Bricklayers and Labourers earn the same?
Safety
If you are working on-site or managing a team of skilled workers, you will be concerned with the safety of yourself and others. It is the duty of the employer to ensure that all staff working on-site have the right qualifications and training to perform their roles. Therefore, if you are carrying out skilled trade work with a Green CSCS card, you will not be covered by the card for any damage or injuries that occur while performing the role. With the Blue CSCS card, you will be backed by CSCS to prove that you are competent in the trade listed on the back of the card. This will ensure that your employees are safe and knowledgeable in performing their role, leading to fewer injuries and accidents on-site.
Employability
With this card, you will be seen as a lot more employable by companies that are looking to hire new staff. Because you are more qualified, fewer people will be competing for the job role as it is more specialised.
You will also be seen as more employable with the Blue Skilled Worker CSCS Card for a skilled worker role as employers like to know that you are not a safety liability.
Further Progression
The Blue CSCS Card will open up so many more options for you in your construction career. This card allows you to prove your value to a company by providing a trade on-site.
If you're looking to become a supervisor and take the management route in construction, then the Blue Skilled Worker card will give you the chance to show your employer how knowledgeable you are in your trade. Your employer may decide to give you more responsibility and eventually allow you to run a gang on-site. With this repsonsiblity, you could undertake your NVQ Level 3 and achieve a Gold Supervisor CSCS Card.
Alternatively, if becoming an expert in your trade is the route you want to take, an Advanced Craft Gold CSCS Card may be the route for you. This shows employers that you are not only competent in your trade, but you have years of experience and expert insight. Supervisors may consult with you if they are looking for more effective work methods and you will be responsible for more skilled tasks.
Contact the team at SB Skills Solutions if you need more information on the Blue Skilled Worker Card.